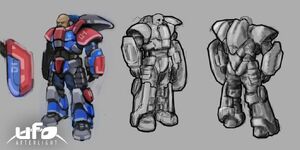 Suit, short fot spacesuits, protects your soldiers from harm, both from weapons and from Mars' environment. Suits can be equiped from the Squad screen in the strategic game.
Human spacesuits can be light or heavy, and aliens will have their own spacesuits which are always light.
In addition to being light weight, light suits allow the wearer the whole range of movement modes and poses, and also make the soldiers a smaller target, occupying 2x2 map grids. Medium suits, appearing in late middle game, are just light suits with better protection.
Heavy suits - those with shoulder blades - limit movements modes but offers better protection, including higher environment resistance. They are also heavier and bigger, occupying 3x3 map grids. Unable to run.
Note that because of the way protections are displayed, in-game numbers may be off by 1%.
Damage
[
]
An attack that hits may damage a suit. Soldier wearing damaged suit will receive damage over time, the higher the enviromental hostility the higher the damage.
Damaged suits can be repaired in the field by a technician with Minor Suit Handling using ToolKit loaded with Suit Repair Set.
Damaged suits will also be reparied when the soldiers return to base.
Enviromental Hostility
[
]
Mars is a dangerous place with extreme temperatures, radiation, lack of oxygen, and other factors. The degree of danger is measured by "environment hostility".
Each suit has an enviromental hostility resistance rating. In tactical missions, when environment hostility is equals to or lower than this resistance, the suit can fully protect soldiers from enviromental harm. Otherwise, the soldier will receive damage over time, as if the suit has been damaged.
Enviromental hostility is affected by a number of factors:
Difficulty: Higher difficulty is more hostile.
Day / Night: Night is cold, and is more hostile than day.
Latitude: Equator is more hostile than poles.
Altitude: High altitude is more hostile than plains.
Solar activity: An active sun will increase hostility.
Terraform progress: Terraforming Mars will obviously make it much more human friendly.
The enviroment is only a threat to active soldiers, other people are safe in the Base or vehicles
Initial
[
]
When the game starts, 7 Basic Suites are available.
Human
[
]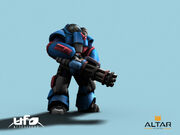 All human spacesuits other then Basic Suit can be researched and produced.
Human Heavy Suits are: Heavy, Life Support, Heavy Battle, Computerised Heavy. They require Major Suit Wearing training to wear AND disable running mode.
Aliens
[
]
Aliens also has suits and armors. Unlike human, they can survive on Mars so environment hostility resistance doesn't matter.
These suits cannot be researched; they either come with the soldiers or can only be exchanged through diplomacy.
Suit
Slots
Protection
Proj
Fire
Melee
EM
Psi
Explo
Laser
Reticulan Light Suit
16
0%
0%
0%
90%
0%
0%
0%

Reticulan Battle Armor

24
40%
20%
40%
95%
30%
15%
85%

Expedition Light Suit

16
10%
10%
10%
90%
10%
10%
85%
Expedition Battle Armor
16
55%
50%
50%
95%
60%
15%
90%

Martian Light Suit

16
94%
10%
0%
60%
45%
65%
75%

Martian Armor

24
96%
30%
10%
75%
45%
85%
92%
Robots
[
]
Robots, like aliens, can operate on Mars without worrying about environment. They are also immune to psionic attacks, indicated by their 100% psi defences.
Turret
Slots
Weapons
Protection
Proj
Fire
Melee
EM
Psi
Explo
Laser

Turret

24+0
1
0%
20%
20%
0%
100%
0%
0%

Battle Turret

48+1
2
40%
50%
60%
30%
100%
50%
25%

Armored Turret

24+1
1
90%
85%
90%
50%
100%
90%
75%

Turtle-Scout Turret

0+1
0
98%
96%
98%
60%
100%
96%
90%

Hi-Tech Turret

96+2
4
45%
60%
70%
0%
100%
25%
15%

Light Martian Turret

24+0
1
20%
40%
70%
0%
100%
20%
20%

Heavy Martian Turret

48+0
2
45%
60%
80%
0%
100%
55%
30%