Mars is divided into over 70 territories.
The distance that a UFO can fly is counted by shortest number of territories and limited by fuel level.
When a character killed a lot of enemies or died, that mission's territory will be renamed in memory of that character. For example, the territory where  Ute Heinemann earned fame will be renamed Ute's Butchery, and the territory where she died will be renamed Heinemann's Grave.
Expansion
[
]
Territories can be claimed by building Geological Probe on discovered territories. The region must be free of missions; active mission will interrupts and prevents the scientists and technicians from setting up any stations.
Discovery
[
]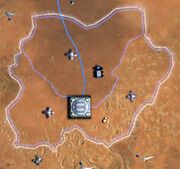 You start the game with three territories claimed and their surrounding territories discovered.
When you claim a territory, its neighbouring territory will be revealed at a regular interval of 100,000 seconds (27.8 hours). At the end of each cycle, each geo probe may discovers one unknown territory that is neighbouring it.
However, if the game was loaded within 14 hours to the end of next cycle, the next cycle will be skipped. To avoid this and maximise territory discovery rate in early game, saves should be made right after territory discovery, or at least within a few hours.
After a new territory is discovered, the mission on it will be available immediately (robots) or within a few hours (other factions), if such a mission exists.
NPC Expansion
[
]
Other factions will also spread into neighbouring territories. If they are allied with humans, they will never invade human territory. Otherwise, they may invade and triggers a defend mission. Losing or ignoring the defend mission will yield the territory which also destroys all human stations on it.
The factions will also invade each other's territories. Changing hand will cause the mission on it, if any, to be lost. For example, if you have a capture or rescue mission on a Beastmen territory, and the Reticulans went in and claimed the land, the mission will be lost. In case of rescue mission or home base mission, the mission will be forever lost.
This can also be used to your own advantage - let the Beastmen invades your allies's land and you can reclaim them without breaking alliance.
Territory List
[
]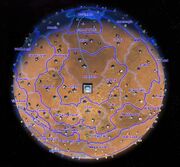 Territories are ordered by distance and then in clockwise.
| Territory | Range | Special | Fuel | Metals | Chems | Nobles | Crystals |
| --- | --- | --- | --- | --- | --- | --- | --- |
| Acid Plains | 0 | Aqueduct | 1 | - | - | - | - |
| Cydonia | 0 | Gate/Excavation | - | - | - | - | - |
| Xanthe | 0 | - | - | - | - | 1 | - |
| Baltus | 1 | Aqueduct | 1 | - | - | - | - |
| Ortygia | 1 | - | - | - | 1 | - | - |
| Arabia | 1 | - | - | 1 | - | - | - |
| Dragonland | 1 | Excavation | - | - | - | - | - |
| Aram | 1 | - | 2 | - | - | - | - |
| Crisis | 1 | - | - | 2 | - | - | - |
| Fountain of Youth | 1 | - | - | - | 1 | - | - |
| Temple Bar | 1 | - | - | 1 | - | - | - |
| Timeland | 1 | Excavation | 1 | - | - | - | - |
| North Pole | 2 | Aqueduct | - | - | - | - | - |
| Cornucopia | 2 | Excavation | - | - | - | - | - |
| Air Land | 2 | - | - | - | - | - | - |
| Moab | 2 | - | - | - | - | 2 | - |
| Witch Yard | 2 | - | 2 | - | - | - | - |
| Meridian Bay | 2 | - | - | - | - | - | - |
| Pyrrhas Plain | 2 | - | - | - | 2 | - | - |
| East Mariner Valley | 2 | - | - | - | - | - | 1 |
| Candor | 2 | - | - | - | - | - | - |
| Ascrea | 2 | - | - | - | - | 1 | - |
| New Europe | 2 | Excavation | - | - | - | - | - |
| Arcadia | 2 | - | 1 | - | - | - | - |
| Sea of Winds | 2 | Aqueduct | 2 | - | - | - | - |
| Lemuria | 3 | - | 2 | - | - | - | - |
| Uchronia | 3 | - | - | 2 | - | - | - |
| Etheria | 3 | - | - | - | 2 | - | - |
| Island Meroe | 3 | - | - | - | - | - | 1 |
| Libya | 3 | Excavation | - | - | - | - | - |
| Big Syrt | 3 | - | 1 | - | - | - | - |
| Deltoton | 3 | Gate/Excavation | - | - | - | - | - |
| Snake Sea | 3 | - | - | 2 | - | - | - |
| Gold Coast | 3 | Gate/Excavation | - | - | - | - | - |
| Pelagus Vulcan | 3 | - | - | - | - | 1 | - |
| Erythrean Sea | 3 | - | 2 | - | - | - | - |
| Cosa Nostra | 3 | - | 1 | - | - | - | - |
| West Mariner Valley | 3 | Excavation | - | - | - | - | - |
| Titan Lake | 3 | - | - | - | - | - | - |
| Tharsis Mountains | 3 | - | - | - | - | - | - |
| Burning Land | 3 | - | - | - | - | 1 | - |
| White Land | 3 | - | - | - | 1 | - | - |
| Brazil | 3 | Gate | - | - | - | - | 1 |
| Scandia | 3 | Gate/Excavation | - | - | - | - | - |
| Elysium Mountains | 4 | Main Gate | - | - | - | - | - |
| Little Syrt | 4 | | - | 1 | - | - | - |
| Amenthes | 4 | | - | - | - | 1 | - |
| Tyrrhen Sea | 4 | | - | - | - | - | - |
| Iapygia | 4 | | - | - | - | - | 2 |
| Elf Ground | 4 | | - | - | - | - | 2 |
| Helespont | 4 | Excavation | - | - | - | - | - |
| Argo Basin | 4 | | - | 2 | - | - | - |
| Byzance | 4 | | - | - | - | - | - |
| Wind Bay | 4 | | 2 | - | - | - | - |
| Syria | 4 | | - | - | - | 2 | - |
| Icaria | 4 | | 1 | - | - | - | 2 |
| Memnonia | 4 | | - | - | 2 | - | - |
| Mesogaia | 4 | | - | 2 | - | - | - |
| Mount Olympus | 4 | Excavation | - | - | - | - | - |
| Azania | 4 | | 1 | - | - | - | - |
| Elysium Planes | 5 | | 1 | - | - | - | - |
| Sea of Dust | 5 | | - | - | 1 | - | - |
| Hesperia | 5 | | - | - | - | - | - |
| Ausonia | 5 | | - | 1 | - | - | - |
| Hellas Basin | 5 | Excavation | | | | | |
| Cherson | 5 | | - | - | - | 2 | 1 |
| Silver Mountains | 5 | | - | - | 2 | - | - |
| South Sea | 5 | Gate/Excavation | - | - | - | - | - |
| Phaeton | 5 | | - | 1 | - | - | - |
| Siren Sea | 5 | Gate/Excavation | 2 | - | - | - | - |
| Atlantis | 5 | | - | - | 2 | - | - |
| Zephyria | 5 | Fort | - | - | 1 | - | - |
| Salamander Valley | 6 | Excavation | 2 | - | - | - | - |
| Erydania | 6 | | 1 | - | - | - | - |
| Kronos Sea | 6 | | - | - | - | - | 2 |
| Prometheus Bay | 6 | Gate/Excavation | - | - | - | - | - |
| Thule | 6 | | - | - | - | - | - |
| Electris | 6 | | - | 1 | - | - | - |